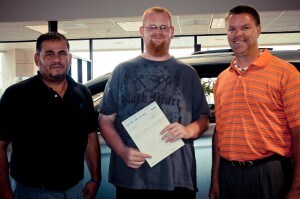 We've been running our Refer a Friend promotion for a few months now, and we finally had our first $500 winner!
It's easy - just bring your friend or family member in to see us at Mears Mazda Volvo… Once they've chosen their next car or truck and decided to buy, you'll get one of our scratch-off cards… and once the buying process is complete, a manger will meet with you and scratch off your ticket.
If it matches the winning number of the week - you win $500!!! But don't fret - even if you don't win the big prize, you still win $100…
So hurry on over and bring your friends - you could be our next big winner!